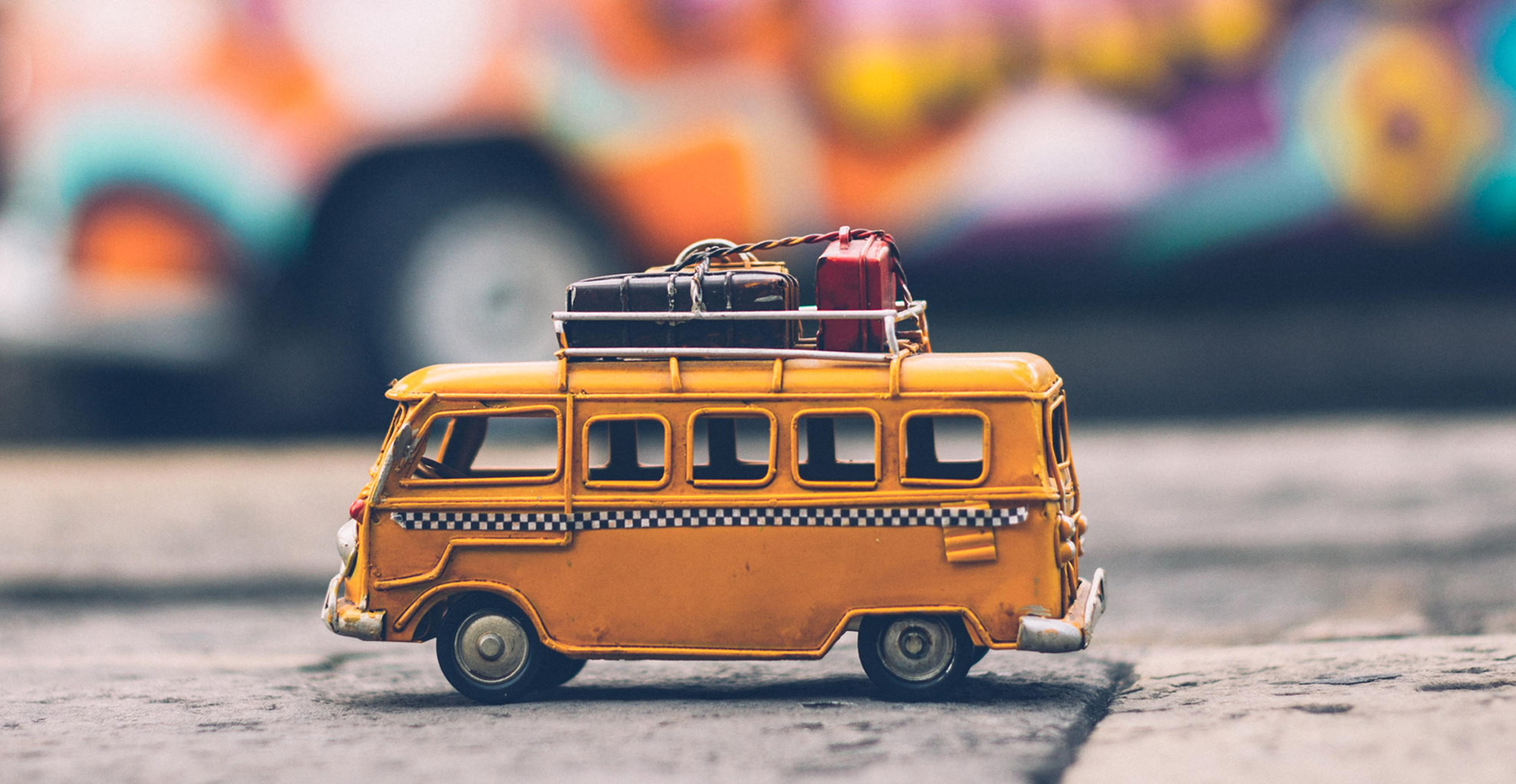 It doesn't matter if you're going on a three-day road trip, a beach vacation, or a backpacking adventure. You're probably going to use ton of single-use, disposable, plastic waste. While convenient at the time, all that waste ends up in landfills. You'll also use a lot of cheap products during travel that dump toxins into the ocean and water supplies. Bringing non-toxic, biodegradable products with you is a must. Learning how to be an eco-friendly traveler will help the planet. It might even make your trip more enjoyable. Here's a bunch of products to set you on your journey of eco-friendly travel.
Food & Drink
Travel Mug
You'll probably get coffee, tea, or an ultra fancy latte at least once during your trip. Wouldn't it be useful to have a durable, reusable mug with you? Stojo makes an amazing collapsible travel mug that's made with silicone and safe, recyclable material. It doesn't contain BPA, phthalates, leads or glues. The Sojo Pocket easily collapses and expands making it perfect to take in a suitcase, purse, or even a large pocket. Seriously, it's perfect for eco-friendly travel.
Portable Water Filter Bottle

Having a portable water filtration system could literally be a life saver if you get stuck somewhere traveling. Berkey's Sport water bottle can drastically reduce or remove toxic chemicals. That includes heavy metals, volatile organic compounds, trihalomethanes, detergents, pesticides, herbicides, chlorides, pharmaceuticals, and petroleum-based products. It can also reduce or remove unpleasant tastes and odor, silt, sediment, and chlorine from questionable water sources. This could be useful for tap water in foreign countries where water regulations are less than ideal. The bottle itself is made from plastic. Fortunately, it's made from safe, non-leaching, LDPE #4 medical grade polymer, which is BPA Free.
Silicone straws
Reusable straws are a must-have for home or travel. Silicone is less toxic than plastic and travels easier than metal or glass due to its flexibility and durability. Silicone straws might not be easy to find locally, but Amazon has a good selection. The Siliskin silicone straws are my favorite.

Luggage
Suitcases & Carry-On Bags

Heys has a line of luggage made from 100% recycled plastic that will fit most of your stuff and look pretty stylish too. For something carry-on size, they have some smaller eco-friendly bag options, like this travel bag made from recycled water bottles. Juuty also has a gorgeous, high-end line of eco-friendly, vegan bags that are made of jute, an eco-friendly, biodegradable plant fiber.
Backpacks

Eco-friendly backpacks seem pretty popular, so you should have your pick here. To start off, there's the company Fjall Raven, a Swedish company who makes the Re-Kånken backpack  It's made from recycled polyester and recycled water bottles. There is also Eve Cork, a company that makes stylish bags and backpacks that are vegan, eco-friendly, and made from cork, a natural renewable resource. Their Montana Backpack is beautiful. They use colours that are created from organic vegetable dyes.

Skin & Cleanliness
Earth-Friendly Shampoo Bar
Rather than using the shampoo and conditioner supplied by the hotel, which has unknown ingredients and may be full of toxins, why not bring your own shampoo bar? It travels well since you don't have to worry about leaks, and you can take it with you to the lake or ocean if you're camping hotel-less. J.R. Liggletts's is a non-toxic, earth friendly brand that has a variety of shampoo bars, like their Herbal Formula Shampoo Bar with rosemary, lavender, and cedarwood.
Non-Toxic Dry shampoo

A big problem with dry shampoo is that you are likely going to inhale some of it, and often it's toxic talc powder you're inhaling. Fortunately, there are better options for dry shampoo; and when you're travelling to places where showers might not be readily available, dry shampoo is really helpful. Captain Blankenship's Mermaid dry shampoo is talc-free, and made with only a few natural ingredients, including aluminum-free baking powder, rice powder, and essential oils.
Biodegradable, non-toxic sunscreen

Most drug-store brand sunscreens are loaded with toxins. Lathering those toxins on your skin lets them get absorbed into your bloodstream. If you're heading into the water, the toxins that don't get absorbed by your skin will come off in the water. The accumulation of these toxins can threaten life in the ocean. My favorite sunscreen is the 30 SPF Unscented Badger Zinc Oxide sunscreen cream. It's free of toxins, has a rating of 1 on the SkinDeep cosmetics database. It's also biodegradable and safe for coral reefs and other ecosystems. Yay!
Bug Spray
The type of bug spray you'll need will depend on where you're going. Mosquitos in Africa are going to pose a greater danger than they are on the west coast of Canada. It's important to do your research here. If you can use an eco-friendly, non-toxic option, that would be ideal. Badger has a great non-toxic bug spray alternative that does not contain DEET, petroleum products, or synthetic chemicals.
Airplane Friendly Toiletry Containers
Most containers you find for your toiletries are made of cheap plastic and le

ak as soon as you get off the airplane. Sadly, it is hard to find better options. I've used the silicone GoToob bottles from Human Gear for a few years. They are airplane carry-on approved, food-safe (FDA), and 100% BPA and PC-free. Unfortunately, the lid is still made of plastic. Fortunately, I haven't had any issues with leaks, and they are still the most eco-friendly option I have found. They are available on Amazon.
Feminine Hygiene

For women, bringing tampons or pads with you abroad can be tricky, and they can take up a lot of space in your bag. Then there's the plumbing and disposing issues. The Diva Cup is a great eco-friendly alternative that creates no excess waste and is made of silicone, not plastic.

What To Wear
Versatile, Eco-friendly clothing
One of the goals of packing for a trip is to pack light and have versatile pieces that work with multiple outfits. Encircled is a sustainable, Canada-based women's clothing brand that develops clothes with minimalism and versatility in mind. Their Chrysalis Cardi, for example, can be worn in eight different ways and is made from modal and spandex. Modal is derived from a renewable source (Beechwood cellulose) and processed without chemicals through a closed loop process.
Hats

For the beach, mountain, or city, a hat is always a useful thing to have with you. Gypsy & Lolo have a fantastic collection of hats for men, women, and kids that are made using recycled and upcycled materials (like cotton scraps); and for each item you buy, they plant a tree! I really love their Boho hat made from upcycled cotton and wool and their Jive Beanie made from recycled fabrics.
Sunglasses

I take my sunglasses everywhere I go, and when I travel it's no different. Eye protection is important, especially if you'll be spending your vacation somewhere bright like the beach. Vegan Zing handcrafts beautiful, unique, vegan sunglasses made from bamboo and come packaged in an awesome looking wooden bamboo box. Solo Eyewear is another awesome company that makes sustainable sunglasses from repurposed bamboo and recycled plastic and dedicated 10% of their profits to funding eye exams, eyeglasses and cataract surgeries in underdeveloped countries where proper eye-care is needed.
Socks

The right socks can help your shoes fit or let you comfortably hike up a mountain. It helps to pack quality socks with you if a lot of your trip will be spent on your feet. Rawganique is an amazing vegan brand that ethically makes sustainable organic clothing and home products. They have a ton of socks for men, women, and kids made from organic cotton, linen, wool, and hemp. Their Equinox Mountain Hiker Organic Wool Socks are perfect for hiking.
Swimwear

Here's a great excuse to buy a new swimsuit for a beach vacation. Azura Bay is a Canada-based company that has a great collection of swimsuits (plus lingerie & sleepwear) that are Fair-Trade, eco-friendly, and made from recycled fibers; like this gorgeous bikini from Vitamin A and this one-piece made from recycled polyester from Underprotection.
Shoes
If you're heading to the beach and you don't already have awesome sandals to bring, check out these Sole Rebels sandals handcrafted from handwoven fabrics and recycled car tires for men and women. They are made sustainably in Ethiopia and are certified Fair Trade.

Kids
Diapers
The most eco-friendly way to diaper your child is in cloth diapers, but sadly, when you travel, this can become difficult due to a lack of laundry, and bringing 20-30 cloth diapers with you takes up a lot of suitcase space. The second best option is to use disposable, non-toxic diapers that are biodegradable. The Attitude Eco Baby diapers are made from renewable and biodegradable materials, and are fragrance-free and chlorine free.
Miscellaneous
Portable Solar Power
If you're up a mountain, or really anywhere away from civilization, losing charge on your cell phone could mean the difference between finding your way back to the road or spending the night huddled in a bush. Fortunately, there are some power-packed solar devices that are lightweight, travel well, and can charge all your devices. The Anker PowerPort Solar works well and is very portable. You can lay it out in the beach as you charge your phone and listen to music. Maybe even hang it off your backpack to charge your devices as you trek through Machu Picchu.
Airplane Neck Pillow

Some people can fall asleep on an airplane and some can't. I think for both types of people, a neck pillow makes the ride a lot more enjoyable. Kuhi Comfort makes an eco-friendly neck pillow with a filling made from corn sugar and an organic cotton cover.
To Conclude
Earth is home. Please take care of it. If you know of other eco-friendly travel products I should add to this list, let me know in the comments.
Sources
www.discovermagazine.com/2003/jun/featscienceof
www.cancer.org/cancer/cancer-causes/talcum-powder-and-cancer.html
www.fao.org/economic/futurefibres/fibres/jute/en/
www.berkeywater.com/sport-berkey-bottle-22-oz/
Disclaimer
The contents of this website are for informational purposes only and should not be considered any type of medical advice. The information provided in this website should not be used for diagnosing or treating a health condition or disease, and should not be substituted for professional care. If you suspect or have a medical condition, consult an appropriate health care provider.