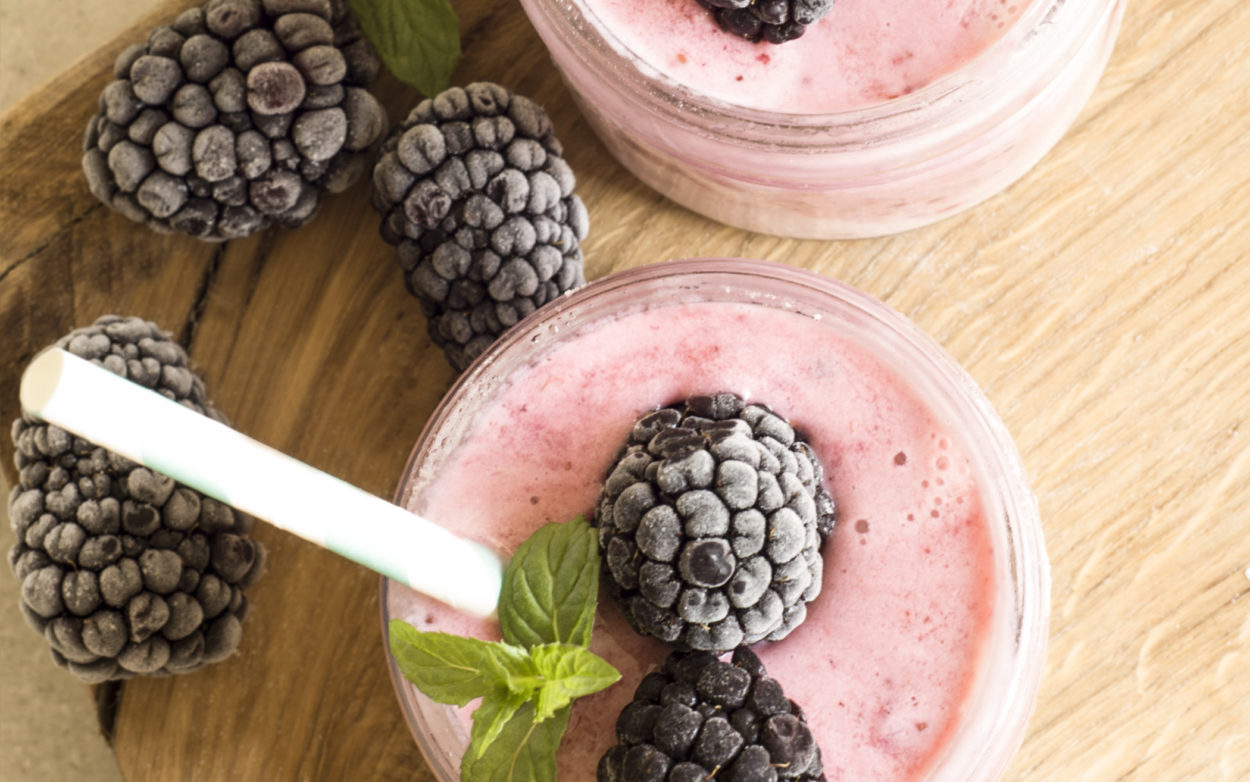 Want to learn how to make a smoothie? How about an amazing smoothie? Well, to begin, a smoothie should be three things. Healthy, simple, and not taste like melted gym socks.
A Smoothie Should Be Healthy
Full of fruits and vegetables, offering you a huge amount of nutritional content which, otherwise, you would need a massive salad for. It should fill the nutrient gaps in your diet. For example, if you are vegan and don't get a lot of protein in your diet, a healthy smoothie should contain a high-quality plant-based protein powder. If you have blood sugar problems, your smoothie should contain lots of high-fiber fruits and veggies, as well as a protein source like spirulina, and some healthy fat like almond butter or ground flax seeds.
A Smoothie Should Be Simple
Because the simpler it is, the more likely you are to make one instead of reaching for a quick, unhealthy snack like potato chips or a chocolate bar. Also, the more smoothies you make, the easier it will eventually get to make them. If you're not used to making smoothies, starting off simple will entice you to continue making them for yourself, slowly adding and experimenting with more ingredients.
A Smoothie Should Be Delicious
You can mix celery, cucumber, and spinach and have a simple and healthy smoothie, but it's going to taste like crap. Then you will never want to make another smoothie. Learn how to make a smoothie taste good and you will actually want to keep making them. Your smoothie should taste so good that even someone who vehemently hates vegetables would love it.

The 5 Components Of An Amazing Smoothie
1. The Veggies (Pick 2 or 3)
Celery, cucumber, zucchini, spinach, avocado, carrot, kale, beet, arugula, etc.
2. The Fruit (Pick 2 or 3)
Banana, mango, papaya, fresh lemon juice, pineapple, fresh orange juice, dragon fruit, kiwi, blueberries, apple, etc.
3. The Liquid (Pick water or water + 1)
Water, almond milk, coconut milk, soy milk, etc
4. The Sweetness (Pick 1)
Honey, maple syrup, agave syrup, molasses, flavored yogurt
5. The Added Nutrients (Pick as many as you can handle)
Spirulina, chlorella, protein powder, fresh ginger, maca, brewer's yeast, ground nuts, ground flax seed, chia seeds, hemp seeds, etc. (These added nutrients can have VERY strong flavors, so you may want to only use tiny sprinkles depending on your taste preference)
Then blend and enjoy!

My Favorite Smoothie Recipe
I never measure amounts. Instead I just add in a handful of ingredients each time and hope it tastes good. Fortunately, it always does because my vanilla-flavoured protein powder makes it taste like ice cream. Below is the basic smoothie recipe I go by. If you prefer sweeter smoothies, like me, keep the fruit and sweetener content high.
1/2 Cup almond milk
1-2 Cups water (add more for desired consistency)
1 Avocado
1 Banana
A large handful of frozen or raw mango
A Scoop of raw organic protein powder – vanilla flavored
1 Large handful of spinach
1 Medium beet
So far this recipe is my absolute favorite. It's simple, very healthy, and extremely delicious. If you use a flavored protein powder it will strongly dictate the taste of the whole smoothie, so make sure to get a flavor you enjoy, or get an unflavored version and instead have the fruit and yogurt you put in your smoothie as the major taste contributors. Good luck!
To Conclude
What do you like to put in your smoothie? Is there a recipe you absolutely love? Let me know in the comments below.
Disclaimer
The contents of this website are for informational purposes only and should not be considered any type of medical advice. The information provided in this website should not be used for diagnosing or treating a health condition or disease, and should not be substituted for professional care. If you suspect or have a medical condition, consult an appropriate health care provider.