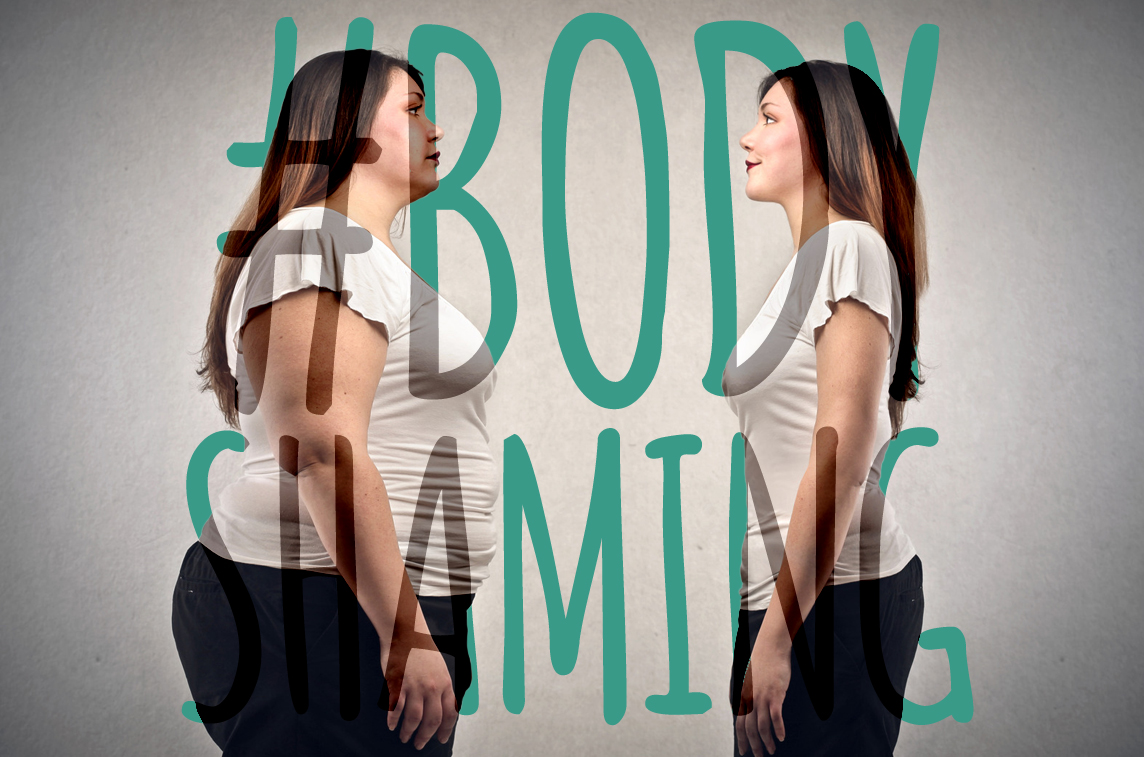 Have you noticed it? In the past year or two it seems like the internet has grown more judgmental about other people's bodies than ever before. Nearly every time I'm on Facebook or Twitter there's news about someone being 'body-shamed'.
Is body-shaming trending or are people just getting meaner?
When Tess Holliday came on the scene as the "largest plus-size model to be signed to a mainstream modeling agency" (Wikipedia), there was a huge controversy surrounding her size 22 frame. Was she glorifying an unhealthy lifestyle or was she just trying to make a point about acceptance? When she coined the #effyourbeautystandards movement the internet saw a sudden wave of women speaking out about their size; unashamed of their weight and happy to speak up about it.
Then came the Protein World advertisement that asked if we were 'Beach Body Ready?' and there was a huge backlash against the company for giving people the impression that they should look a certain way before heading to the beach. Were people were being too sensitive? Maybe Protein World was just trying to motivate them.
In June, the Reddit subreddit 'FatPeopleHate' was shut down because of massive amounts of body-shaming. The term 'Ham-Planet' was often used to describe someone who was overweight, which, obviously, did not go over well with many people. While some of the posts were debunking the misguided logic behind weight-gain, many of the posts were hateful and offensive.
Recently, Daisy Ridley was body-shamed on Instagram for being too slim for her role in Star Wars The Force Awakens. Her accuser stated that all 'real women' have curves. Daisy's response to the shamer was superb: "'Real women' are all shapes and sizes, all ethnicities, all levels of brave," and "I am a 'real woman' like every other woman in this world."
Body-shaming isn't a new thing
Being overly critical of other people's bodies has been going on long since before many of us were even born. You've seen celebrities gracing the covers of magazines in their bikinis, the headline reading: "This actress gained 50 lbs after her divorce!" Now we're seeing the same thing on a wider scale. Thanks to social media, everyone has a voice, and people are focusing their negative opinions onto both celebrities and us common folk alike. For example, Sarah Petty was recently body-shamed on Twitter after showing off her figure in a bikini. So basically, no one is safe.
How did we get to this point?
The food we eat is full of toxins, sugar, and oodles of calories, making us gain weight. But it's cheap and delicious and we see it advertised every single day, so we eat it. Then we're bullied for looking the way we do because of a combination of that food and our sedentary lifestyles. So we start a movement that says it's okay to look a certain way. To have big hips, to have size 20 jeans that fit snug, and to wear spanx every day to keep the muffin-top under control. This is the body-positivity movement and, in theory, it's actually a great thing. We should be proud of our bodies. They are amazing, and we should love them enough that we want to keep them as healthy as possible. What we shouldn't do is accept that being unhealthy and extremely overweight is okay just because we give it the 'body-posititivity' label. That's just spilling your popcorn, sweeping it under the rug and telling yourself the house is clean. Unfortunately, some people use this as an excuse to body-shame.
Want Some Statistics?
According to the World Health Organization, an increase in BMI (being overweight or obese) increases the risk for cardiovascular disease, diabetes, musculoskeletal disorders, and some cancers, and most of the world's population live in countries where overweight and obesity kills more people than underweight. In other words, we are eating ourselves to death faster than people in our country are starving to death. Does this justify the body–shaming? No. Even with all this, body-shaming is still bullying, and it sucks. Just because someone is overweight does not mean they aren't trying to change. Even if they're not trying to lose weight, why would shaming them help? As for body-shaming someone who is a perfectly healthy weight? That just sounds like envy.
How Do We Fix Things?
I don't like seeing people promote unhealthy habits, but I'm not going to shame someone for how they want to live their life. We need more education out there that tells people what is really going on in their food. Nutrition classes in elementary schools; cafeteria lunches made of fresh salads, whole grains, ripe fruits. Healthy snacks in the workplace like almonds rather than candy bars. Encourage a fresh juice or green tea instead of coffee loaded with cream & sugar first thing in the morning. Rather than shaming people for their bodies, start promoting health. This doesn't mean posting on an overweight friend's wall that they should eat a salad. That's still bullying. Instead, don't say anything about their weight. Leave it alone. Then try to start healthy conversations elsewhere.
Feedback
What do you think? How do we stop people from jumping on this body-shaming trend? Let me know in the comments below.
SOURCES
DISCLAIMER
The contents of this website are for informational purposes only and should not be considered any type of medical advice. The information provided in this website should not be used for diagnosing or treating a health condition or disease, and should not be substituted for professional care. Every human is biochemically different and what works for one person may not work for another. If you suspect or have a medical condition, consult an appropriate health care provider.