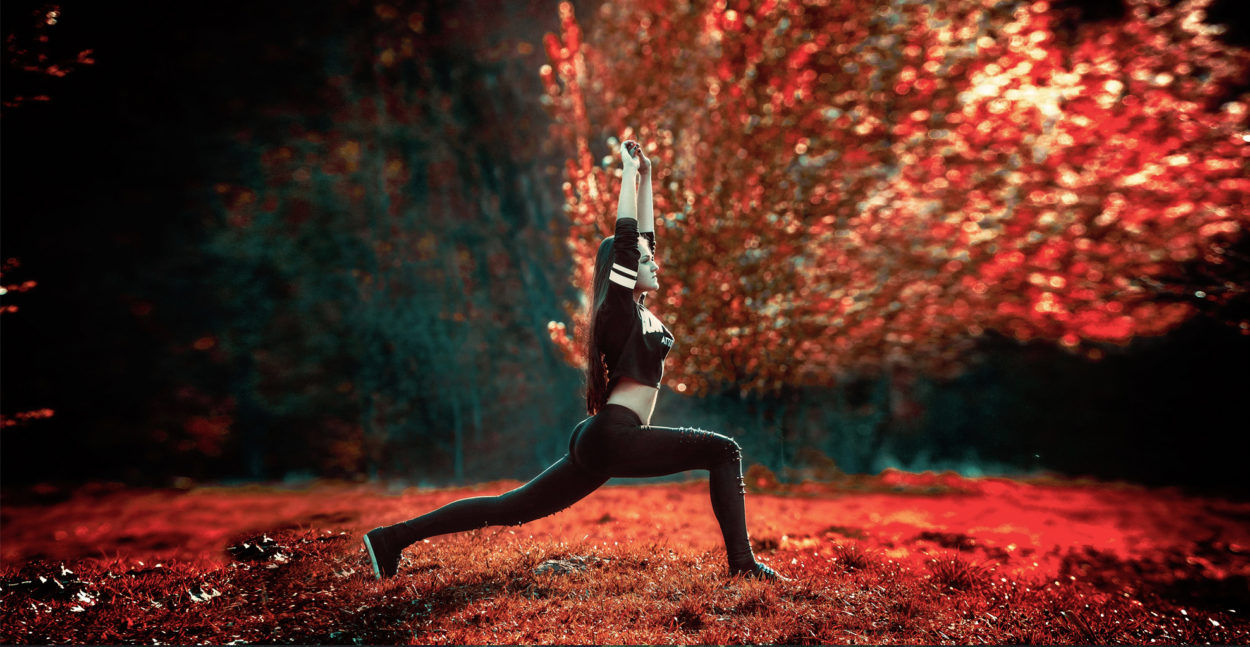 The activewear market is saturated right now. Sadly, the eco-friendly activewear market is not. Much of what is popular in the activewear market is cheaply made fabrics that fall apart too quickly and can contain dangerous chemicals. Chemicals to achieve wicking and antibacterial properties are harmful for our bodies and the earth, and are common in activewear. Additionally, synthetic clothes that end up in a landfill pose the same environmental hazard as plastic bottles and other non-biodegradable materials. Even cotton fabrics pose a health and environmental risk. Cotton is considered one of the dirtiest crops on the planet, using 25% of the world's insecticides & 10% of the world's pesticides, and contaminates over 13 million acres of farmland.
Organic cotton, recycled materials, and other natural fibers pose significantly less risk to the planet and your health, helping to keep waste out of landfills, taking less energy to produce, and helping to reduce CO2 emissions. There are some awesome companies doing their part to save the planet. Here are five of the best eco-friendly activewear brands I've found
Based In: Los Angeles, USA
Ships: International
Clothes Made In: USA
Eco-Materials: Recycled plastic bottles
Teeki labels themselves as an eco-conscious activewear line for women. They make all their products out of sustainable or recycled goods. Their clothing is made from fabric that is spun from fibers made out of recycled plastic water bottles. It's then cut, printed, and hand sewn using only environmentally friendly practices.
Based In: Los Angeles, USA
Ships: International
Clothes Made In: China, Kenya, India
Eco-Materials: Organic cotton, recycled polyester, lenzing modal (beech tree pulp)
Threads For Thought is is a full lifestyle brand of fashion & activewear for men and women. Their clothes are all produced responsibly & support sustainable initiatives. The company is also committed to socially responsible manufacturing. They use low impact reactive dyes that do not contain any toxic chemicals or hard metals.
Based In: Vancouver, Canada
Ships: International
Clothes Made In: Canada
Eco-Materials: Recycled water bottles, rayon from bamboo
NoMiNoU is an innovative and sustainable women's eco-friendly activewear brand known for its distinctive designs. Their leggings, capris, and shorts are made of a 12% spandex and 88% recycled polyester; made from recycled PET. PET is a 100% post-consumer recycled raw material that is derived from recycled post-water bottles.
Based In: Hawaii, USA
Ships: International
Clothes Made In: USA
Eco-Materials: Organic cotton and bamboo
Lily Lotus is an eco-friendly women's lifestyle company with a passion for living colorfully, mindfully and beautifully. Originally conceived as a line of stylish yoga lifestyle clothing, the brand has blossomed into a collection of everyday glamour for the modern active woman. Their garments are all made with natural fibers and knits. Their eco fabrics and organic activewear offer a more natural alternative to performance fabrics and synthetics.
Based In: Hong Kong
Ships: International
Clothes Made In: Taiwan, China
Eco-Materials: Recycled plastic bottles, upcycled coffee grounds
Rumi X designs and manufactures a variety of high-performance activewear for women using sustainable fibers. Their vision is to pioneer innovation in creating modern products made from environmentally conscious materials and methods. They want to make a positive impact on the planet, transforming waste to recycled goods that would otherwise contribute to landfill or oceans. They have mastered the art of creating activewear products from recycled plastic bottles and upcycled coffee grounds. The result is super soft fabrics with moisture-wicking properties and ultra-stretch. Next, they plan to release products created from discarded crab shells.
To Conclude
I hope this list of eco-friendly activewear helps you out. I was pretty selective with this list, so there are many other semi-sustainable activewear brands that I did not include here. If you know of any other eco-friendly activewear/yoga brands that deserve a place on this list leave me a comment.
Sources
www.lilylotus.com/pages/sustainable-practices
www.threadsforthought.com/our-materials
Disclaimer
The contents of this website are for informational purposes only and should not be considered any type of medical advice. The information provided in this website should not be used for diagnosing or treating a health condition or disease, and should not be substituted for professional care. If you suspect or have a medical condition, consult an appropriate health care provider.